Terotest offer a range of products from some of the world's leading suppliers to enable users to rapidly develop their own Automatic Test Systems. From PXI Systems to Boundary Scan, Terotest offer the full range of hardware and software to enable rapid and successful system development.
PXI is now the primary format for "Self Integrators" and Terotest offers a broad range of Chassis, Cards, Interfaces and much more..
View
Terotest offers a range of industry leading software packages enabling the Test Engineer to get the most out of his system. These software packages..
View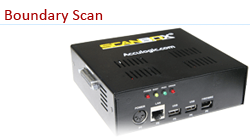 Acculogic's comprehensive line of Boundary Scan Test tools can be effectively used in the entire product life cycle, starting with design verification..
View